Chickpea Tacos with Gingery Garden Salad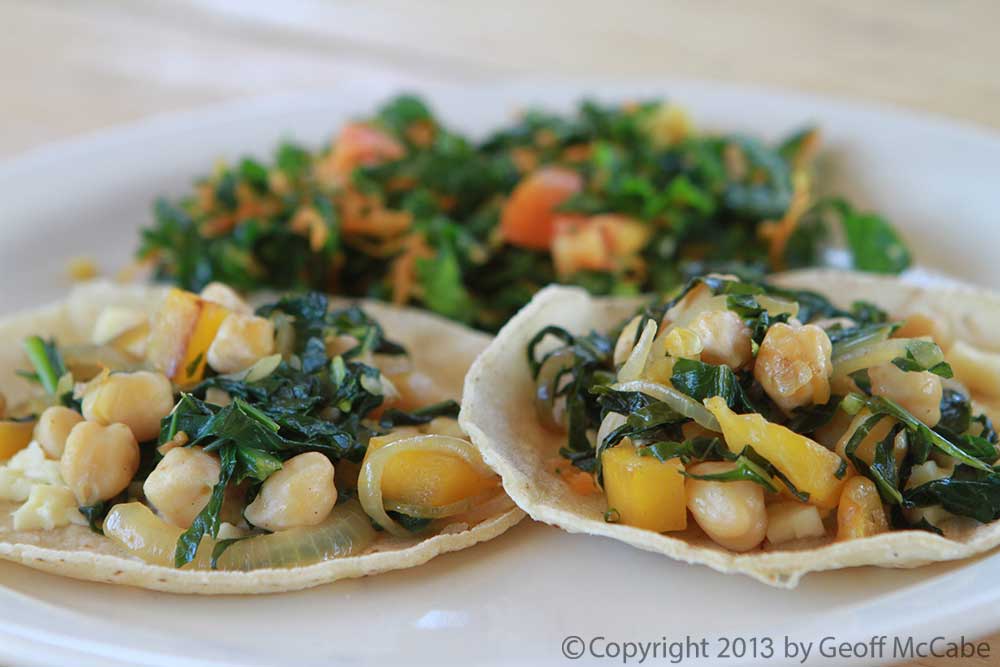 Serves 4
I covered my chickpeas with a few inches of water and refrigerated for a good 24 hours. If you're also using dry beans, it's important to discard the gaseous water in which they were soaked. If you soak them this long it cuts down boiling time (about 20 mins), or until soft-but-not-mushy. Which leads me to the very urgent matter of whether chickpeas may be considered "al dente"..? An ideal dish for lunch along with a serving of this fresh take on a garden salad. It solicited a que rico!
Ingredients
• 1 cup chickpeas, cooked
• 1 bunch Swiss chard or cauliflower leaves, sliced (F)
• 1 yellow zucchini, peeled, small cubes (F)
• 1 onion, sliced thin
• 1 tsp ground cumin
• 1 tsp cayenne pepper
• ½ tsp salt
• 1 tbsp olive oil, plus extra for taco shells
• 4 cloves garlic, diced (FF)
• 8 small corn taco shells (FF)
• 2oz local farmer or goat cheese, crumbled (FF)

Directions:
1. Heat oil in a medium-sized saucepan. Sauté garlic for a minute, and then add onions and cook, stirring often, until they soften and begin to caramelize. (If onions start to stick, add a couple tablespoons of water rather than load up with more oil.)
2. Add salt, ginger and ground cumin and cook for another minute or two.
3. Add your zucchini and beautiful greens (who knew cauliflower or broccoli leaves are wonderfully Swiss chard-like when sautéed). Cover and cook, stirring occasionally, until the kale is tender but still bright green, about 3-5 minutes. Meanwhile, brush olive oil lightly on both sides of taco shells. Sprinkle crumbled cheese and toast or bake at 400F for a few minutes, until cheese melts.
4. Add the chickpeas and cook until coated, only about a minute. The squash gives a fusion flavor to the Indian-inspired cumin spiced chickpeas.
5. Remove tacos from toaster or oven and serve about two generous spoonfuls of the sautéed goodness over each taco.