Info for Retreat Leaders
Are you interested in leading a retreat?
We'd love to have you….
Thanks for your interest in hosting a retreat at Awaken Retreat Center in Rancho Delicioso permaculture farm.
We love hosting any type of retreat that is oriented toward yoga, breathwork, health, detox, consciousness, personal development, circus arts, aerial silk dance, permaculture, environmental preservation, sustainability, regenerative practices, dance, women's and men's work, plant medicine, etc.
We have several accommodations and meal options for you and your group.  We source as much food as possible right from our own gardens, green houses and food forests.
Booking: Each accommodation you choose to include for your retreat should be booked separately on airbnb (see links below).  You will be responsible for handling all your retreat guest emails.
Meals: You can arrange to have your meals provided by Yasmin at our farm restaurant, Wonderland.  They cater to vegetarian, vegan, gluten-free, or pescatarian cooking. As an added bonus, some of the food comes from our farm and we only serve organic, locally raised chicken.  Or you can also hire a chef to cater the meals and serve them in the River Palace kitchen space, but that seats only about 12 people.
Yoga Deck:  You can use the yoga deck for your retreat classes but we ask a 20% fee of your classes price.  And you'll need to work around our ongoing class schedule, which you can find here.
Questions: Please email [email protected] for questions and to reserve the yoga deck.
Accommodation Options
River Palace – more photos and description. Airbnb booking.  6 round hanging beds and 2 queen bed private rooms each for 1 or 2 people, full kitchen, bathrooms and 2 showers. 16 people max.
Sacred Geome-Tree House (pronounced Sacred Geometry House) more info, airbnb booking for more photos. One queen bed for up to 2 people with full kitchen and private bathroom.
Container Tiny House – see airbnb for more photos and booking.  One queen bed for up to 2 people, with full kitchen and private bathroom.
Living Bamboo Tree House Tower – Up to 5 people: 1 queen bed and 3 single beds with full kitchen and bathroom.  Airbnb booking.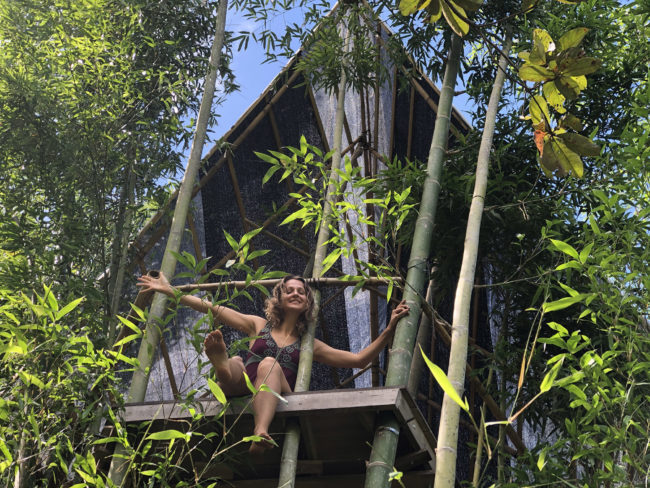 Poolside Oasis: One queen bed for up to 2 people with kitchenette and full bathroom.  Airbnb booking.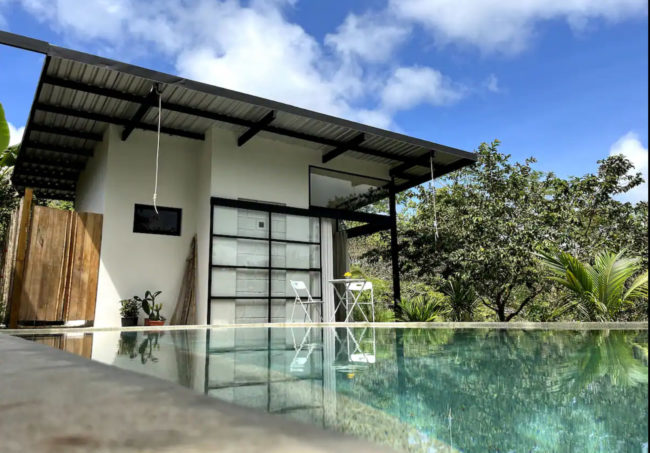 Floating Miracle: One king bed, one couch and one couch bed for up to 5 people. Airbnb booking.
Geoff's Oasis: One king bed, loft with 2 single beds and patio with single bed couch for up to 5 people. Airbnb booking.
BYO Tent (bring your own tent) – pretty self explanatory.  Campers can use the bathrooms and showers at Wonderland or the River Palace. There is a $9/day fee/person for this option.
Community Pool
Yoga Deck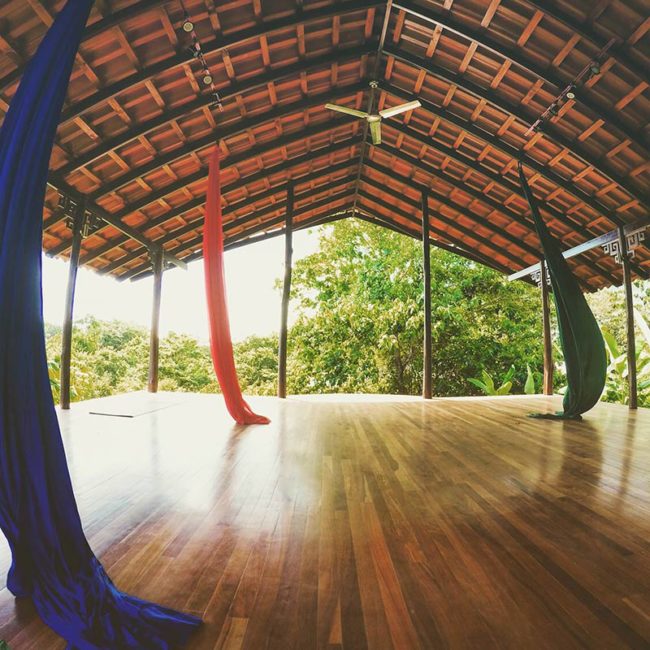 Local waterfall
Here are some additional class and excursion options for you to add to your retreat:
Aerial Silk Dance Class

Beach Trips

Boat Trip to Tortuga Island

Snorkeling Adventure

Boat Trip to remote beaches/islands

Canopy Tour / Zipline

Lunch, Dinner or Yoga at Anamaya

Fire Dance Classes and/or Show

Horseback Riding (beach trip or to remote waterfalls)

Permaculture Courses (up to 8 available)

Pool Party

Raw Chocolate Making Class

Scuba Diving

Surfing Classes or Trips

Waterfall Hike to Montezuma Falls
Booking: Please email [email protected] for questions.