Costa Rica TreeHouse – Montezuma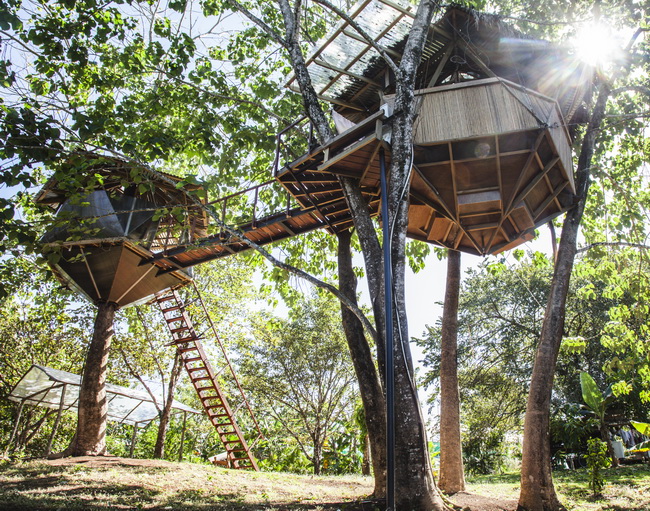 The Sacred Geome-Tree House is now only available if you attend a retreat at Rancho Delicioso, are a guest of Joseph or possibly longer term rental if you get involved in the community (eco-building, retreat running, natural medicine, etc).  You can email him Joseph (at) Anamaya.com for more info.
The tree house is composed of 4 structures, a bedroom, kitchen, bathroom (and a half) and lookout/meditation platform called the Awarenest.  All of the trees holding the structures are Melina trees, a farmed tree used for construction in the area because it grows so fast and is nearly bug proof.
The tree house is fully functional with electricity, running water, flushing toilets, hot shower, plenty of storage space and even a flat screen TV and sound system. To learn more about how it's built, see Icosahedron Treehouse Construction.
This Sacred Geometry house has been featured on TreeHouse Masters (Ultimate Treehouses VI episode. Available for $2 on youtube featured at 22:08-23:32)
Even Victoria Secret discovered the tree house and came for a photoshoot.  Some of the images are featured in one of their last catalogs (2016 swimsuit issue). And it's also listed on their blog.
The farm and tree house are located conveniently between Montezuma, Mal Pies/Santa Teresa and Cobano.  We suggest having a rental car if possible or plan to pay for taxi's.  For driving directions, please see How To Find Rancho Delicioso, and for more instructions on how to get to the general area, please see Anamaya's Costa Rica Travel page.  Anamaya is just 5 minutes drive toward Montezuma from the farm.
The "Aware-nest" view deck 30 ft (10m) above the ground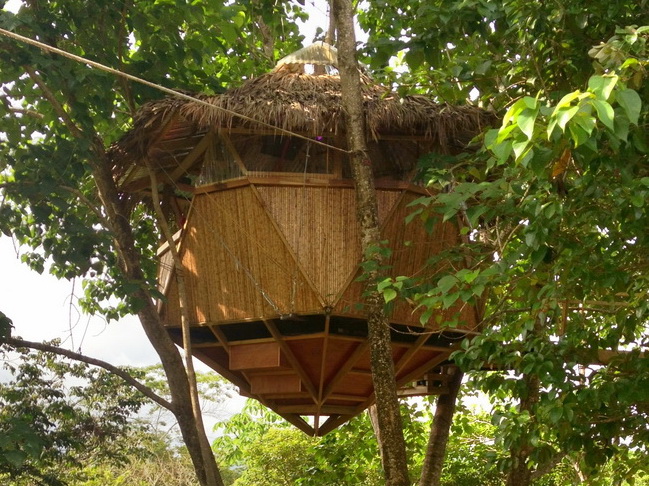 The bedroom Icosahedron structure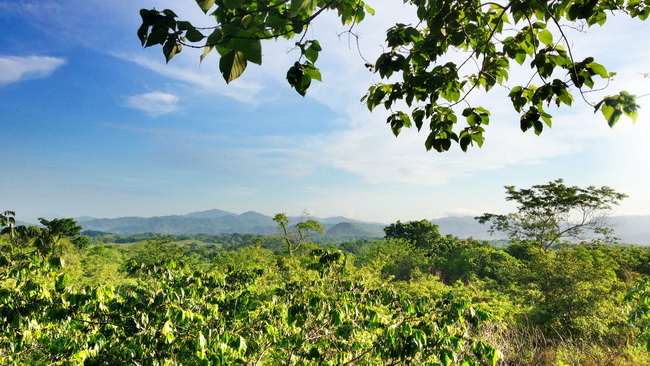 The view from the bedroom
There's a wonderful authentic Italian restaurant located close by, in the middle of nowhere.  Their pizza is amazing and cooked in a wood fired home made earth oven, hence the restaurants name, Tierra Y Fuego (earth and fire).  Generally they are only open Thursday-Sunday and closed for most of Sept/Oct.
There is also a restaurant on the farm now called Wonderland.  It's open thursday to saturday 4-9pm serving fresh delicious and affordable food.  See the healthy menu here.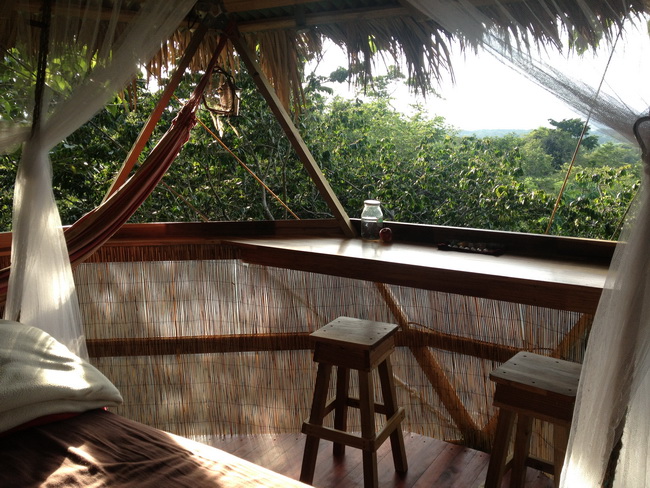 Bedroom desk area

Awarenest yoga and meditation deck with amazing view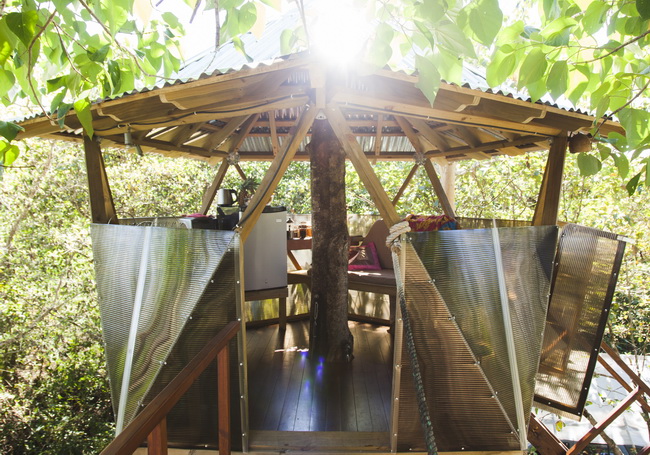 Kitchen Icosahedron