Meet the Community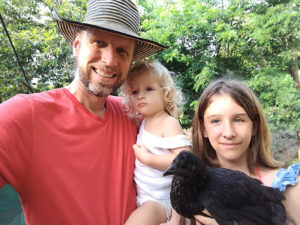 People often ask us who lives here, so here's some info to answer that question.
Many people who have traveled around Costa Rica visiting various eco-villages have noted that Rancho Delicioso is different in that we have a lot of people who actually live here, or plan to be here at least half the time. Many of the other projects end up with a lot of people who set up vacation-rental type situations, which doesn't make for a strong community short-term. We also have a wide variety of ages, with everyone from young children to people who have retired down here.
Too see where these are located, look here on this map: https://www.ranchodelicioso.com/map-farm/
Lot 1: This is owned by an amazing man named Joe Pacal, who will bring a youth volunteer program from a Navajo reservation in Arizona to experience another culture, the tropics, permaculture, and some of the world's most beautiful beaches. Joe previously lived in Hawaii. Now he's of retirement age but is going strong and very active in permaculture and volunteering.
Lot 2: Pippa
Lot's 3-9, 17, 18, 24, 25, 28, 40 and 59: green zone, community orchards and projects.
Lots 11 & 12: Ken and Janine have build the most high-tech eco-house in the area, and they have a thriving permaculture garden. Ken is a retired musician with a couple of platinum albums and Grammy nominations, and Janine is a yoga teacher who runs an eco-minded charity called Greenwave. Movie night is on Tuesdays at their home theater. And they have an open invitation to the community to visit them for sunset and have a glass of wine on their rooftop. They're using the used bottles to line their garden paths. Ken is our lead exercise class teacher, and they are part of our early-morning surf group. Check out this
Lot 16: KaytiBunny Roberts.  For the last 10 years, she has toured internationally as an entertainer and event producer. She has seen Rancho Delicioso grow every year since the beginning and moved here permanently in 2020. She looks forward to implementing many types of sustainable building for her eco-castle and applying more permaculture techniques to her growing food forest. Kaytibunny is actively performing, leading farm tours, creating unique gatherings at Rancho Delicioso and enjoys bridging the greater Southern Nicoya communities together.
Lot 19: Heejin is a Korean American architect who currently lives in New Jersey. She's has designed a "tiny house" to build here, and has chosen to go 100% solar for the power. She plans to build in 2019.
Lot 20: Scott and Kim have been teaching at Anamaya every year nearly since we opened. Kim teaches yoga and Scott is a high-level success coach. They have an amazing program called Go Love Now, which empowers youth to be kind and compassionate.
Lot 21: Josephine is originally from France, but lived most of her adult life in the Netherlands. She's a yoga teacher, a vegan chef, and has a wide array of other skills. She was Rancho Delicioso's permaculture and yoga retreat program leader for over a year, and did her first YTT at Anamaya. A very hard worker and dedicated to permaculture and spirituality.
Lot 22: Swett family: Bryan is from Costa Rica and Phoebe from Whidbey Island, Washington. They have two kids, Ian and Joaquín. They built their house and moved full time onto the property in 2020. Bryan is part of the Rancho Delicioso surf club. He's also a master breadmaker and is famous for his amazing sourdough, which he delivers fresh to neighbors.
Lot 23: Patricia and Martin are from Seattle, where they have a house in Ballard. Patricia is a well-known glass blowing teacher and plans to have a small glass studio here soon. Martin is a builder and a vegetarian chef, and they plan to build in 2018 and live here at the farm from 6-8 months of the year when the weather is the worst in Seattle.
Lot 26: Kevin and Francesca are old friends who decided to purchase a lot together. Francesca is an Italian chef and dreams of having her own restaurant in Costa Rica someday.
Lot 27: Manuel and Rebecca currently live in London. Rebecca is a professional chef, and Manuel is an adventure tour guide. They are building a Gap Year travel website: https://www.gapadviceportal.com Their current plan was to move to live in Costa Rica full time starting in 2019, but it looks like they may be delayed by a year or two.
Lot 31: Sarah McCabe
Lot 33:  Geoff McCabe – originally from Seattle but has lived in Costa Rica since 2004. He is the co-founder of Rancho Delicioso with Yasmin Tobon. Geoff also is part owner of nearby Anamaya Yoga/Wellness Resort (with Joseph and Kelsey). He is especially passionate about cryptocurrencies and permaculture. Here is the new house he just finished in Oct 2021.
Lot 35 and 36: Robbie, Cassandra and their two young children live here full time, having moved from Southern California in early 2020. Robbie is a professional artist, musician and surfer, and Cassandra is an artist, nature lover and former producer in the fashion industry. They experimentally designed and built their house and studio mostly out of local Melina hardwood, and now have 50+ edible plants on their property.
Lot 37 and 70: Yasmin and Anika. Yasmin is from Colombia and is a journalist and artist, in Costa Rica for more than 20 years. Anika is 5 years old.
Lot 30 and 38: Awaken Retreat Center for hosting retreats of all kinds. Here you'll find the River Palace and our greenhouses. More info soon…
Staff House:
Lot 39: Joseph's land is home to many fruit trees and tree structures.  You can read more about the Sacred Geome-Tree House.  He's now building a 4 story flying bamboo house in the living bamboo he planted in 2013.  Joseph will be hosting bamboo workshops as well as aircrete dome building workshops. He was one of the teachers of DomeGaia.  He's passionate about eco building, natural health and consciousness evolution and plans to teach more in those areas.  Currently he manages the Awaken Retreats here at the farm!
This is an early construction photo of the bamboo house to give you an idea of the structure.  Now it's so grown in that you can't even really see that there's a house there from the ground.
Lot 40: This one is currently slated to be a community lot where we'll build a pool, BBQ, and deck for the community to use for potlucks and gatherings. Many lot owners plan to build a cabin for rent, so their guests can meet each other and share this area.
Lot 41: Jim and Catherine retired after working with children and families for 30+ years and moved to Delicias in 2018. Their house, which is constructed if bamboo and cob, includes a greywater system, compost toilets and a rooftop rainwater catchment system. Prior to moving here, they studied and practiced permaculture while living in Washington State. Since moving to Costa Rica, they have been studying soil regeneration and are developing ways to use this knowledge and speed up the succession process to restore the natural habitat around their home.
Lot 42: Resham is in the process of buying this lot to build a rental cabin and a house. She's from New York but currently lives in Florida, where she's the director of sustainability at Valencia College.
Lot 44: Resham
Lot 47 – Permatek: Geoff and Shane are using recycled containers to build a tech center. Here we'll have high-speed internet, a VR room, and a place for "digital nomads" to stay and work, while also enjoying the area's surf, yoga, and healthy food and environment. Part of the idea here is to have a place to help get our work lives separated from our home lives, to help achieve a better balance and focus.
Lot 48 and 55: Shane Duncan is from Colorado and plans to build one or two small solar-powered houses in which to live in part-time. He originally came to Rancho Delicioso as part of one of our "Awaken" retreats and is now becoming a resident.
Lot 49: Wonderland: Yasmin has built her restaurant, gift shop, children's playground, and event space that will become a focus of activity for people living here and great people from the neighborhood and around the southern Nicoya Peninsula.
Lot 50: Joshua, Tiffany, and their 5-year-old daughter are purchasing this lot and plan to build and live here with us full time.
Lot 52:  Carrie
Lot 57:  Matt, Susan and Kaelianna.  Matt is a former attorney and judge, an aquaponics farmer and would be avid Gardner. He currently works with his wife Susan writing and presenting continuing education courses for licensed healthcare providers. In addition to offering continuing education, Susan is a licensed psychotherapist, mental health agency director, and long-time environmental activist and eco-warrior. Matt and Susan left their electric cars and eco-home in Florida in order to escape out-of-control over-development and environmental destruction, and to connect with a community of creative and like-minded people. They brought their youngest of 3 children, Kaelianna, who will soon be graduating from the local IB school Futuro Verde. Having found their "tribe," they are in the process of designing a new eco-home here at Rancho, which may include a zero carbon aquaponics system as well. Join them Sunday morning at the Montezuma Runners Group.
Lot 58: Tammy, Matt and Susan
Lots 60-62: for sale
Lots 63-68: for sale