The River Palace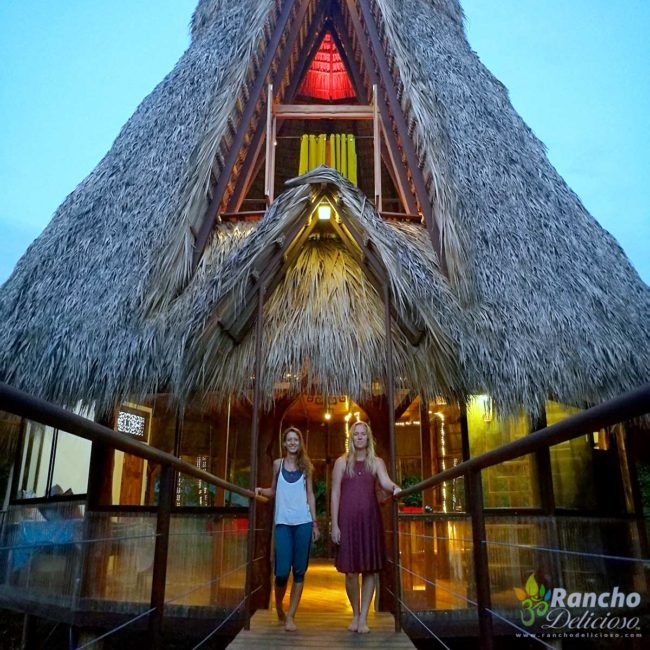 We are nearly done constructing our new accommodations for our guests at Rancho Delicioso, which we call The River Palace.
We will have better photos soon when we're done! This is just to show you what we're working on!
It took nearly a year to build, and was designed with the idea to make it the most beautiful and interesting building in the area, using mostly natural materials. Nearly all the wood comes from a farm across the street or nearby.
The structure is around 70 feet tall, making it the tallest habitable building in the Southern Nicoya Peninsula of Costa Rica!
It's constructed 20 feet in the air, at the center of three valleys. It has three bridges to reach it.
Inside, it has three floors, all built into one very large room. Many people remark, when looking up, that it has an "M.C. Escher" feel to the design, because of the many floors, stairs, and bridges.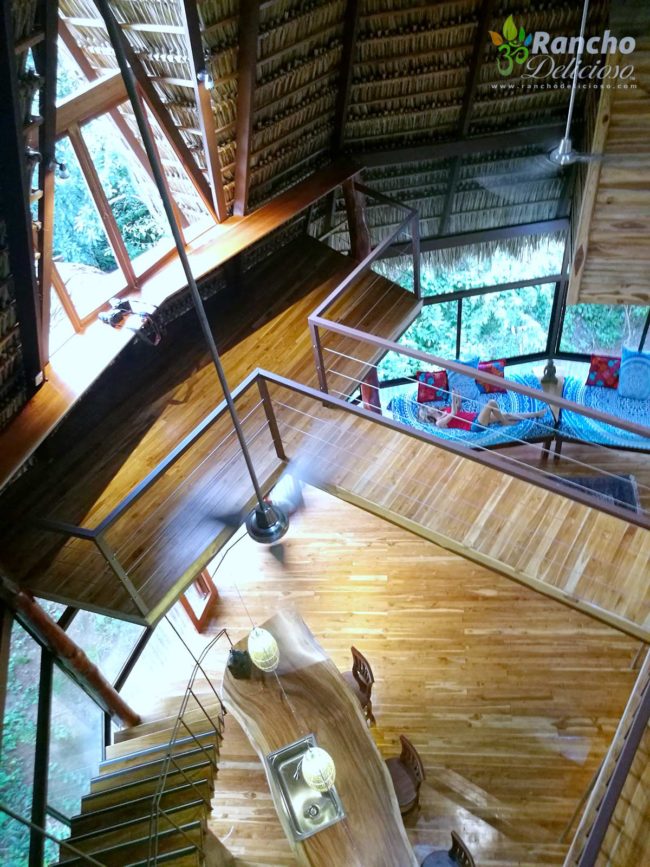 The second floor has a catwalk/bridge to a small space with a work area, for people with laptops or who want to do art, or just hang out and look out at the farm in the westward direction. It has a very large triangle-shaped window, and the upper half of this is done with stained glass.
Keep in mind, that although this has an exotic and luxurious style, it's still basically a dorm! The bathrooms are small. There's little privacy except in the two small loft rooms at the top. Our guests of 2015 and 2016 loved staying crammed together like sardines in our volunteer house, so we figured this would be a big step up. Plus nearly everyone we talked to loved the coziness of being together like a Tarzan jungle family, or Swiss Family Robertson, so we tried to capture that type of energy while still providing a lot more space than before. So far, everyone is flipping out over it, and many declare that they would love to move in permanently! We hope you'll enjoy it as much as we've loved making it.
Lighting
The Roof is designed with a ring-vent at the top, to let in some light and remove hot air.
The crown has a set of lights that create a rainbow-style glow from above. We did this by simply cutting out colored stage gels and putting them over white LED lights.
All the lights in the structure are eco-friendly LED lighting.
The ceiling is raw palm, stripped and bound together in the traditional way. It's truly gorgeous.
The structure of course has no Air Conditioning, but the palm roof is very insulating, and with the many windows and doors, plus ceiling fans, the structure stays plenty cool day and night.
Kitchen
It has a full kitchen, with refrigerator, double sink, and gas burners for cooking, although for our retreats we won't be eating here. This is mainly for the guests to make themselves a snack, or for if we rent it out for private use.
Perhaps the most spectacular part of the inside of The River Palace is the 16-foot long table/bar. It was made from a single branch that fell off a huge cenizaro tree in Cabuya in a storm.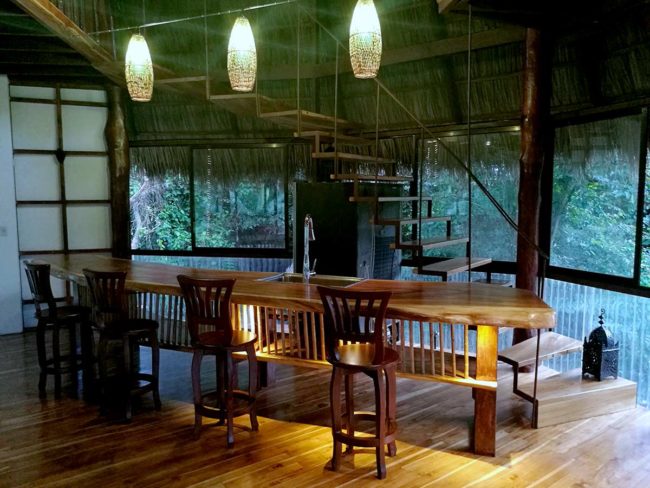 Bathrooms
There are two bathrooms in the main structure. One on the first floor and one on the second. Each has its own sink.
Outside, underneath one of the mini towers, there are two showers that are made in concrete, much like those at Anamaya.
Bridges
Because the structure is built over a stream and basically floats in the air, the access is only from three long wood bridges, each of which goes from a different land mass in the farm.
There are also two metal bridges lower down, for use by the workers or tours. If we hadn't done this, we would inevitably have a lot of people with muddy feet walking through the structure in order to quickly get from one part of the farm to another.
In total, the structure has 7 different bridges inside and out.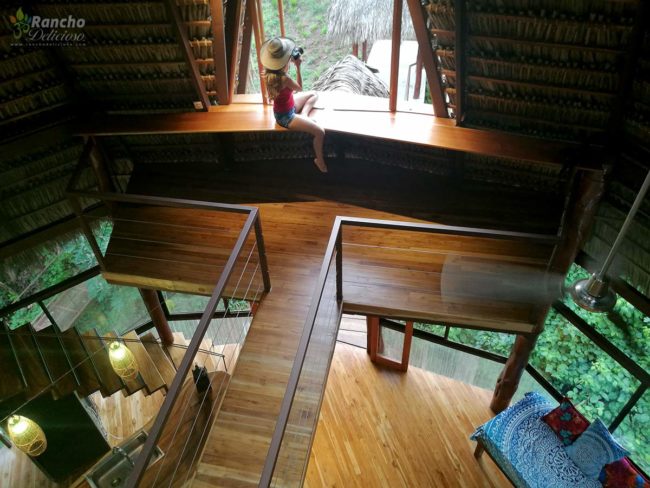 Hanging "Nest" Beds
The structure has six round "nest beds", each of which is hanging from ropes.
They have their own lighting, a personal fan, a mosquito net (not that you really need it) and are perhaps the coolest beds in the world.
There are 2 nest beds on the first floor, and 4 on the second floor, so total 6 of these. They're close together, very cozy. For guests who want privacy, the loft rooms above are best for you.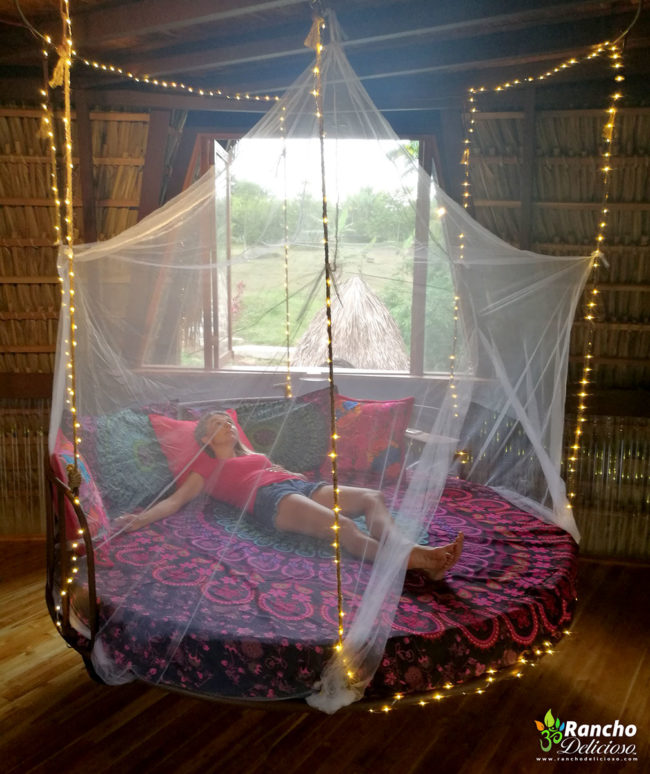 Private Rooms
The third floor is a loft with ladder-type stairs to reach it.
In this loft are TWO small private rooms, each with a queen-size bed and an interesting, narrow triangle-shaped window with a view. Each room has its own ceiling fan.
The bed is made from local Melina and Teak, and has a Fire/Flames design.
These private rooms overlook the main room, but there are curtains for privacy for guests who need it.
Single Beds
We also have two single beds on the first floor, for those of you who might not like the movement/motion of the hanging beds.
During the day, these beds will probably end up being used from time to time by everyone, because they're also our sofas! On the upside, they're the closest to the kitchen, for grabbing a midnight snack.
Although these are on the bottom floor, they're still around 20 feet above the creek bed below, so they have a nice view.
River Palace Video