DIY Tortillas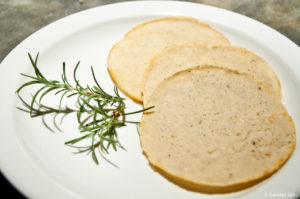 To think, someone who until just a month ago had practically never been south of Miami, can now make her very own tortillas. Without a shi shi press! The rosemary was a last minute addition, but would only add more next time.
Serves 3 (main course); yields 10-15 tortilla, depending on size
Ingredients:
1 cup harina de maize (corn flour)
1 1/4 cup warm water
1 tbsp olive oil
1/2 tsp Himalayan salt
1/4 tsp fresh ground papaya pepper (Farm)
1/2+ tsp freshly dried rosemary (Farm)
Recipe
Thoroughly combine ingredients in glass bowl. Cover and place in refrigerator for 30 minutes. Meanwhile, prepare toppings (see suggestions below) and cut out 2 large circles, about 10 inches in diameter, from a clean plastic bag.
Kneed your dough on a clean surface for about a minutes (you're looking for a similar consistency to bread, i.e. no sticking). If necessary, add more corn flour. Separate dough out in evenly-sized balls; we made about 15 balls, but next time will make them larger to hold more topping–about 10-12.  Now place one of the two plastic circle cuttings on the counter, your first dough ball in the center, then take the second circle and place it on top. Roll out dough with a rolling pin. Gently peel off top plastic circle. If you're feeling fancy, use the rim of a bowl or circular lid as a cookie cutter; remove trim. Heat lightly coated non-stick pan with olive oil or butter.  Remove top layer of plastic, then carry the bottom layer holding your raw tortilla to the pan, flip it into the pan, then peel away plastic. Turn after a few minutes, or when toasty. Repeat. Serve immediately, buffet-style.
Suggested toppings:
Caramelized onions with fried sage (farm)
Black bean spread
Fried egg (farm)
Steamed kale with sesame seeds (farm)
Fresh salsa (farm)