Giant Mushrooms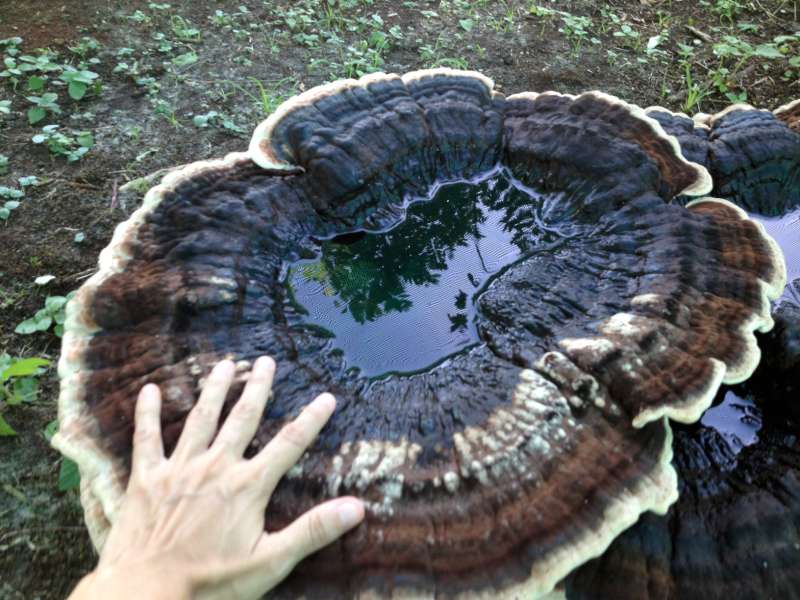 We found some mushrooms growing in the corner of the shade structure, seemingly connected somehow to the roots of a large Melina tree.
We thought they were gigantic to begin with, but they just keep growing larger and large and now are much larger than the original huge size. They're by far the largest mushrooms I've ever seen personally anywhere.
And they keep growing!
They started out as a row of individual mushrooms, but now have grown together into one solid mass. I wish I had a time-lapse of them growing over the past couple of weeks.
Another interesting point about them is that they top of them is concave, so they catch water and usually have small lake in them. I'm tempted to catch a large frog or toad to put in there for the classic Costa Rica "frog on a mushroom" photo-op. Actually they're so big we could put something much larger than a frog… perhaps a squirrel, or our chihuahua Zeus.
When they were smaller they were quite hard, almost like underwater coral, and we were all surprised at that, expecting them to be much softer like the types of mushrooms we buy to eat from the store.
There's a mushroom expert named Dennis who lives on the beach in Cabuya, and he gave me some advice, "Don't Eat them!" Most wild mushrooms are toxic and some are really deadly. Someone told me a joke recently: "There are old mushroom pickers, and there are adventurous mushroom pickers. But there are no old adventurous mushroom pickers."
More of my mushroom photos can be seen here: Costa Rica Mushrooms Photo Gallery
Mushrooms Video
Mushroom Gallery