Greenbuilding Projects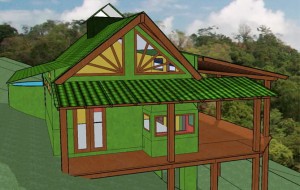 Tropical Greenbuilding is a passion of mine since I arrived in Costa Rica in 2004, and I've wanted to start a center to do research into alternative building materials and techniques for many years. Finally I have my chance with Rancho Deliciso.
You can see some of my tropical green-building architecture on two past projects here:
Solar Vistas: 5 Eco house designs
Pura Vida Sunsets: 4 Smaller House Designs
We have our first living structure started:
Living Shade Garden Unit – A 500ft2+ structure of living posts and shade plants that prevents p
Currently we're focused on organic farming and permaculture, but we are planning for three sustainable construction projects in the future once we have enough volunteers:
Costa Rica Adobe Project – Adobe brick technology reinvention using local materials.
Living Structure Project – A concept to create, using living trees, structures such as a dome, shade garden, gazebo, mediation space, or even a single family home.
Recycled Materials House – The idea is to use recycled glass or plastic bottles to make walls. The area's recycling center is next door so this is convenient.