Pineapple Vinegar
A simple recipe for homemade vinegar that costs less than $1 to make because it uses the scraps of the pineapple that would normally be thrown away!
Materials needed:
Several smaller bottles with lids (recycled vinegar or wine bottles work well)
Large wide-mouth jar
Piece of cloth to cover jar
Ingredients:
Skins and core of 1-2 pineapples, preferably organic
Tapa Dulce syrup*
Water
Directions: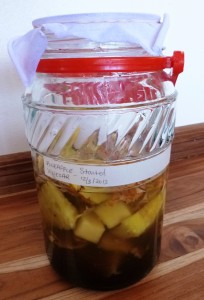 1. Chop the pineapple scraps into large chunks and place in a large wide-mouth jar.
2. Add enough water to fully cover the pineapple.
3. Add the Tapa Dulce syrup at roughly the ratio of 1 cup syrup to 1 quart or liter of water. (If using granule sugar or honey, reduce the amount by half.)
4. Cover the jar with a cloth to keep the bugs out and allow to ferment at room temperature for about 1 week. The liquid will begin to bubble and lighten in color. Stir daily.
5. Strain the fruit out and allow to sit for 2-3 more weeks. Stir periodically. The liquid should start to take on a noticeable vinegar smell.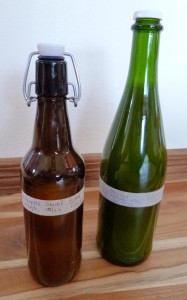 6. Transfer the liquid to the smaller bottles. Label the bottles with the contents and bottling date. You may use immediately or store in a cool place till needed.
*Tapa Dulce Syrup:
Tapa de Dulce is a naturally evaporated sugar cane juice readily available in Central America. It can be purchased in blocks or granule form. To make a syrup, dissolve a 600g Tapa de Dulce block in 2 cups water either on the stove top or in a solar oven, if available.