Raw Vegan Green Papaya Salad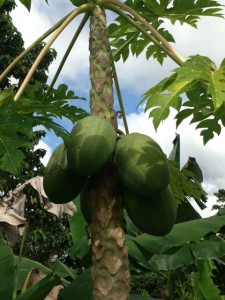 The farm is literally swarming with huge green papayas at the moment, just asking to be taken advantage of. Never having used papaya's in my cooking before, I was forced to scan the net a bit for some inspiration. I came across a recipe that had the basic ideas of something I could work from, though rather typically I didn't have half of the ingredients it called for. This is where it always gets fun on the farm, I love the space that I have for creativity in every meal. All that I took from the recipe was the basis of the grated papayas and with a soy based dressing and roasted peanuts, the rest of it is where I started to have some fun.
1 medium sized grated raw papaya, seeds discarded.
1/2 cup raw grated beetroot
1/2 cup diced raw green beans
3/4 cup toasted peanuts
1 large raw onion
Peppers, diced and seeded * Note: on the farm we grow these little slightly spicy peppers that add a perfect kick, both sweet and hot I love that they are each unique seaming and have different degrees of spice. Its fun to just whack like 10 of these guys in, but if cooking at home and with perhaps more convention peppers, I recommend 2 diced sweet peppers and one jalapeno (with or without seeds to your discretion)
A sprinkling of sunflower seeds on the top (or any seeds you choose)
A large handful of chopped cilantro from the garden
A slightly smaller handful of chopped basil from the garden
Dressing
1/2 cup olive oil
1/4 cup soy sauce
1 tablespoon grated ginger (at least, I like it very gingery personally)
1 teaspoon honey
1 teaspoon sesame oil
2 squeezed limes
1 dash of cayenne pepper
1 dash chili pepper
Dice and gather all of the ingredients in a large salad bowl, toast the peanuts last until they are browning and toss in the bowl with the mixed up dressing. Creating this dish made me so SO happy as I have never cooked with green papaya's before. Or rather, NOT cooked. Love that it's raw as well, all except for the peanuts. The more I learn about nutrition the more inclined I am to expand on my raw repertoire. It was a clean break away from some of the slightly heavier dished that I have been leaning on, like the Mexican bean salsa and the soups I made earlier this week. I served it with Quinoa, avocados, tomatoes drizzled with lime with a sprinkling of salt and over a bed of fresh farm greens, mustard greens for a little kick and my favorite spinach.