Surf Spots and Surf Map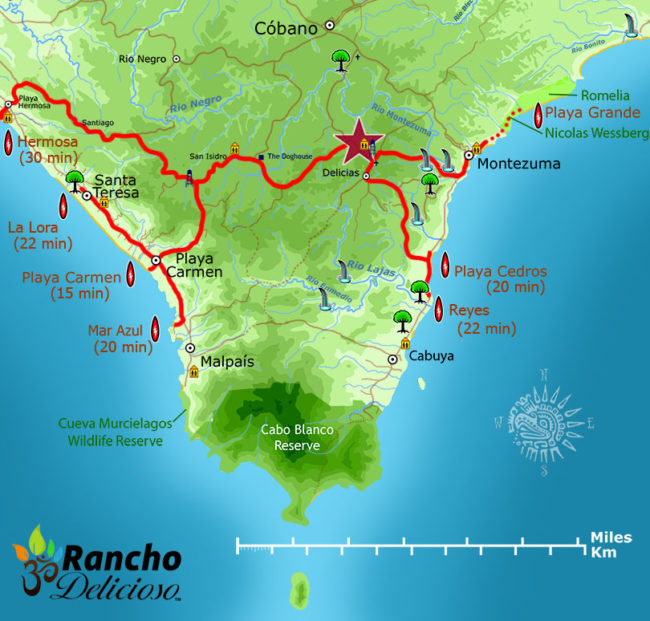 We're located in an ideal location for surfing, because we're nearly equidistant to most of the best surf breaks.
With changing tides, wave size, and swell direction, different surf spots become the best place, so from here, we can always choose the best location for any given set of conditions. The short drive to the beach is just about right in that it doesn't seem very long, and since we usually go early in the morning, it's perfect to wake up and drink a cup of coffee on the road.
Generally, we try to assemble at 5:30am and get to the spot between 6:00 and 6:15. This is because the morning winds start to pick up around 8am, and so we get perfect, glassy conditions and avoid the crowds, and the sun. So morning surfing is ideal, but sunset can be nice too, especially followed by dinner at one of our favorite restaurants. A perfect afternoon is to get to Playa Hermosa at 4:00pm and surf for a couple of hours through sunset, then go to Koji's for sushi afterwards.
Basic Surf Spots
There are of course many more than this list, but these are the places we tend to go most, since we're usually a group of beginner/intermediate surfers, and these spots can be fun for the experts too. At each spot, of course there are certain sections that are best for people with more less skill, or who prefer long-boarding or a short board.
Playa Grande – Most of the surf schools in the Montezuma area take their students only to Playa Grande, because it has small, clean consistent waves (best around mid/high tide) and no rocks. It's a 30-minute walk along a beach and jungle path, but it's a good warm-up and you often see monkeys and animals along the way. It's one of the most popular hikes for tourists and is a great warm up before hitting the surf.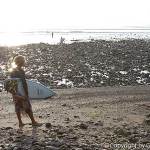 Lajas/Reyes – Meaning "Kings", Reyes is a very long right-hand point break that breaks at all tides over a field of rocks. It requires a south swell to work, and is best for longboarding. It can be epic, but isn't very popular because it's usually pretty small (if breaking at all) and you have to walk across 100m+ of rocks to get into the water. When it's good, crowds unfortunately come over from Santa Teresa. We like to beat them there by going at first light. If you have weak feet, you'll need booties to get into the waves unless it's at high tide.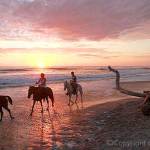 Playa Carmen – The closest beach to us is also one of the best. It's a long white sand beach that works best at low or medium tides, and it has a pizzeria at the parking area. Surf contests are sometimes held here because of the great wave right in front, and beginners usually are off to the sides where the waves don't break as heavily. It can also be convenient because there are two banks here, a pharmacy, the fish store (Product C) and the best bakery in the area. You can also rent and buy boards, get a ding repaired, shop in one of the many gift shops, hit the liquor store, or walk to many other restaurants. This is because the beach is right in front of the largest commercial area of Santa Teresa and Malpais.

Hermosa – This is the farthest break from us that we generally go to. It's such a great beach for beginners that it's worth the drive if the roads aren't too bad. It has a wide sandy beach break, is usually not particularly crowded, is great for beginners, and has a quirky rocky point break that's usually deserted. There are a few amazing restaurants nearby such as Koji's sushi place and Colores. Read more about this beach and area here: http://www.malpaisbeach.com/beaches/playa-hermosa/

Intermediate/Advanced Surf Spots
Cedros – This spot is a great left-hand break that's usually packed with local surfers when it's good, all jockeying for position to take off at the same spot. It has some rocks and a fin gets knocked off your board here and there. It only works at high tide because of the rocks, so to beat the crowds, we have to have good luck and timing. Or another option is to go on smaller days, or days that have long gaps between sets, when many of the locals won't bother. The wave is great, and it can be worth it to hang out there and wait 10 minutes between sets on that type of day.
Mar Azul – This left-hand point break is good a high tide, and when a larger swell comes in. It's rarely, if ever crowded, and a great spot for "soul surfers" and long boarders. It's next to a huge rock and very photogenic with its white sand and interesting terrain. Until a few years ago, it had a great local restaurant serving fresh lobster, ceviche, and seafood caught in Malpais. Unfortunately the municipality tore it down because it was built in the public zone. But, it's still a great spot to surf.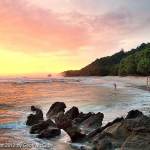 La Lora – The most popular surf spot in the Santa Teresa area, La Lora is often too crowded because of its perfect white sand and perfect barreling waves. We usually go here when there's a SW swell that isn't too big, and surf the north end at the Suck Rock point break. It's good for beginners when the waves aren't too big, and we find several nice peaks. When the swell comes from the South, the rocks tend to suck you into them, hence the name, so we pay attention to swell direction for this spot.