Sweet Potato Chick Pea Burgers with Passion Fruit salsa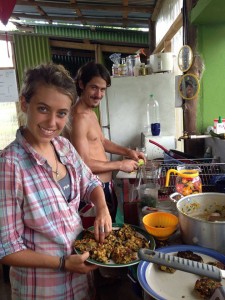 Sweet Potato Chick Pea Burgers with Passion Fruit salsa

This was everyone's favorite farm concoction as of yet! I served the burgers with 2 types of salsa making use of the passion fruits that we collect from the grass inside 'The Passion Dome'. I personally find this space to be a hub, encapsulating the spirit of the farm; a rounded outdoor dome enclosure entwined with passion fruit vines and swinging hammocks, it has a fiery pink aerial silk hanging from the center. The other night a few of us volunteers swung with dangling feet, peeking through the vine leaves at the stars, welcoming the last legs of the rainy season and clearer nights to come. It was the very next morning that I sought to use the passion fruits, in thanks I feel, for the gift of a moment that will last for ever offered to us by the dome that night.
I also made a papaya salsa offering a sweeter option, to the slightly more sour passion fruit flavor that is mine, but perhaps not everyone's preference. Salsa is such a perk for me, a) Because of course I love it, totally drank the cool-ade and b) Because I am always looking for more ways to play with our papayas and passion fruits.
Serves: 8
Cook Time: 15-20 mins
Prep time: 30 mins
Ingredients for the burgers:
4 large sweet potatoes
Equal parts chick peas
2 onions
4 Garlic cloves
1 Tsp Cumin
½ Tsp Cayenne pepper
¼ Tsp nutmeg
1 Tsp Paprika
Salt and Pepper to taste
3 eggs
Passion Fruit Salsa
2 passion fruits
3 large onions
5 large tomatoes
¼ cup chopped fresh Cilantro
1 Tablespoon chopped fresh lemon grass
½ squeezed lime
1 generous squirt of honey
1 de-seeded jalapeno (if you like a bit of spice)
½ Tbsp apple cider vinegar
1 large pinch of salt to mediate the sourness of the passion fruit
Papaya Salsa
½ a diced papaya
1 dehydrated a small handful of the papaya seeds, crushed them and threw them in as they are the most potently nutritious part, and great for digestion.
1 Squirt of honey
¼ cup fresh cilantro
1 Tbsp chopped fresh lemon grass
1 squeezed lime
1 de-seeded jalapeno
First for prep time, which takes up the majority of the time it takes to create this dish…
Soak the chick peas, I did it overnight just to be safe but 6 hours or so should do it, making them both easier to digest and soften more easily when cooked.
Chop potatoes into chunks to be mashed and boil until soft at the same time boiling the chickpeas in a separate pot.
While cooking, make the salsa so that it has some time to marinate in its own juices, it will taste better the longer you leave it. Dice the herbs as small as possible, and the onions and tomatoes as small as you normally like your salsa. Add all the other ingredients and put to the side.
Drain the chickpeas and sweet potatoes.
Separate half of the chickpeas and put to the side as you combine the rest of the chickpeas with the sweet potatoes as you mash. (I used my hands on the farm, I love working with my body whenever possible to bring my energy into the food more directly)
Fry onions and when soft add garlic in a separate pan and add to the mash along with the spices, the rest of the chickpeas which you leave whole for texture in the burgers, and 3 raw eggs to bind.
Make burger balls with your hands and fry in olive oil.
Serve with salsa on the side and a green salad. I recommend a light salad dressing with a few squeezed limes to equal parts olive oil, a splash of water, salt and a sprinkling of remaining diced cilantro and lemongrass that I had left over. I also served a bowl of diced jalapeno's for the spice crowd.