Tarta de Coliflor y Queso
Here at Rancho Delicioso, the volunteers take turns preparing lunch for each other on workdays. When my turn came up in the rotation this week, I decided to try to recreate a favorite of mine from an internship that I did on another farm in Costa Rica last year – Cauliflower Cheese Pie, or Tarta de Coliflor y Queso. Although we often made it with a wheat crust, we also had a gluten-free version that used shredded yuca, a local and readily available root vegetable. With only minimal searching, I found nearly the exact recipe that I was looking for online. Here is my adaptation of The New Moosewood Cookbook's "Cauliflower Cheese Pie":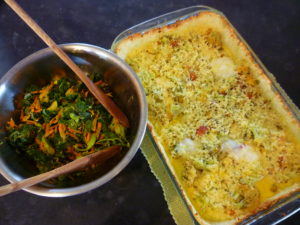 Crust
2 c grated raw yuca (remove the outer brown and red layers and the stringy part down the center before grating)
½ t sea salt
1 egg white, beaten
¼ c grated onion
Filling
1 T olive oil
1 c diced green onion
3 cloves garlic, minced
½ t sea salt
Freshly ground black pepper (to taste)
¼ t dried thyme
1 t dried basil
1 head cauliflower, broken into florets
1 large tomato, deseeded and diced
1 c grated cheese*
2 eggs
¼ c milk
*The cheese you use will have a big impact on the overall taste.  I used the white semi-soft cow cheese that is easily available in the local markets.  I've also had it made with fresh goat cheese, which is quite nice.  The original recipe calls for grated cheddar.  Your choice.
Instructions
1) Preheat the oven to 400°F and generously oil a 9″ pie dish.
2) Place the grated yuca in a colander and toss with the salt. Wait ten minutes, and then squeeze out the excess water. Stir together the yuca, egg white and onion in a large bowl, then press the mixture evenly into the pie dish, building it up the sides to form the crust.
3) Bake for 30 minutes. Remove from oven and lower the temperature to 375°F.
4)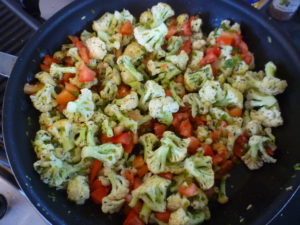 While the crust bakes, heat 1 T olive oil in a large sauté pan over medium heat. Add the onion, garlic, salt, pepper and herbs and sauté for about 5 minutes. Add the cauliflower and tomato and stir well to coat. Cover and continue cooking, stirring occasionally, until the cauliflower is tender, 8-10 minutes. Add a tablespoon of water if the cauliflower begins to stick to the pan.
5) Spread half the cheese over the crust and spoon the cauliflower mixture over, and then sprinkle with the rest of the cheese. Whisk together the eggs and the milk, and then pour this mixture over the cauliflower cheese mixture.
6) Bake 35-40 minutes. Remove from oven and let sit for 5 minutes before serving.  Serve with your favorite garden fresh salad.