Tropical Banana Brownies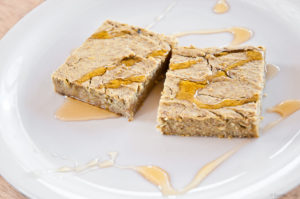 The truth is, I set out to make "healthy" corn bread. The flavor was nice but the consistency was denser, really more like a brownie. I suspect this is an ideal recipe for modifying to gluten-free and/or vegan diets. (Try 1 1/2 cups soy or almond milk instead of yogurt and water, an egg substitute like tofu, and oat flour instead of wheat flour). You won't believe there's only 2 tbsp on sugar – the bananas and squash add a lot of sweetness. Suitable alongside a savory meal like a beans and rice, as a snack with a mug of mint tea, or with berries for dessert. xxoo
Ingredients:
• 2 ripe bananas
• 1/2 cup butternut squash, cubed, boiled 5 mins
• 1 1/2 cup yellow cornmeal
• 1 cup whole wheat flour
• 2 tbsp. brown sugar
• 3 tsp. baking powder
• 1/2 tsp ground cinnamon
• 1/2 cup yogurt, goat or cow
• 1 cup water
• 1/4 cup sunflower oil
• 2 eggs
• Local honey, for drizzling
Recipe:
Preheat oven to 175 C = 350 F. Thoroughly combine and mix dry ingredients (cornmeal, whole wheat flour, sugar, baking powder, cinnamon). In a separate bowl, mix yogurt and water, then beat in eggs and oil. In a kitchen aid or blender combine your wet and dry mixture then add bananas and squash and mix for 30 seconds or until creamy. Pour batter into buttered baking dish (9×13 or depending how thick you want it!) and bake for 30 min, until knife comes through clean. Slice into about a dozen squares and drizzle with honey.