Volunteer Garden
A few weeks ago we decided to build a garden specifically for the volunteers to grow their favorite foods in. In an effort to be resourceful we decided to use old glass bottles from the recycling center to create the garden boundaries. The next step was designing the garden- we created a shape that would allow easy accessibility to all parts of the garden:

To get the soil ready for planting we got to work digging it about a foot deep, mixing it with manure, and turning it. Mixing in the cow manure enriches the soil with nutrients, and also helps the soil to maintain the proper amount of moisture.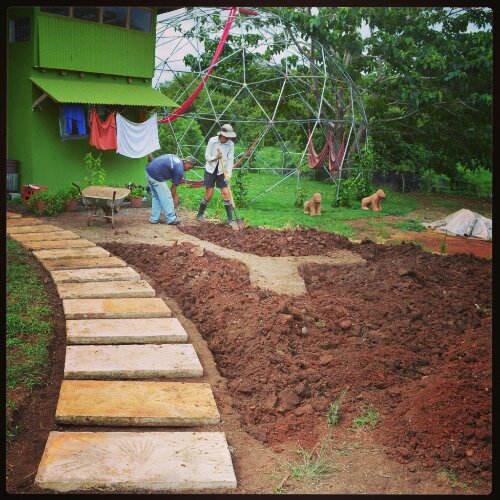 After several trips to the recycling center, we finally had enough bottles to line the garden. First, we removed all the labels and filled each bottle with sand and dirt so that the light wouldnt penetrate the soil damaging the roots. You wouldn't believe how long it took to fill up all 300+ bottles! Then we were finally ready to start "planting" our bottles.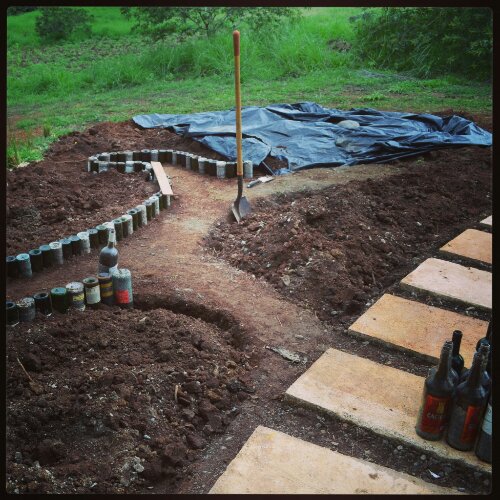 Our once arbitrary shape had taken the unmistakable form of a person, so we added a head to top it off!
We mixed in some more healthy soil that had been stewing on the farm, and finally planted our favorite seeds and seedlings… spinach, tomatoes, peppers, kale, lettuce, and a few other goodies.