Volunteer Program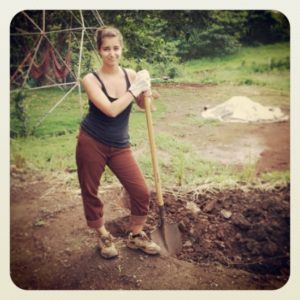 Currently we don't have a volunteer program anymore at Rancho Delicioso, and I want to write in detail why we have stopped it after four years of struggle and spending thousands of dollars per month on it. We did have many amazing experiences, and so many incredible people stayed with us, but like so many organizations that try to create a volunteer program, we found it too difficult to sustain and afford.
Note: Although Rancho Delicioso no longer has a volunteer program, our amazing Josephine Hintzy is going to be a doing her own volunteer program here at Rancho Delicioso, on her own land, working on creating a super-sustainable, 100% vegan experience. She will provide more details soon, but from what I understand it will be very basic. You'll eat simple vegan food, live in tents while building super-eco natural cottages, do yoga, meditation, drug and chemical-free experience that has a spiritual component too. It will start in November/December 2017 and if you're interested in it, you can fill out this form here: Volunteer Program with Josephine
Wild Sun Wildlife Rescue Center Would you like to help care for baby animals and support a place that does this? Another great option for volunteering is to go to Wild Sun, which is nearby in Cabuya. They always need people. It's not all just cuddling with fuzzy creatures though. They're doing building, planting, cleaning, and cleaning up monkey poo. If that sounds good to you then read more here: Wild Sun Wildlife Rescue Center
Why No More Volunteer Program?
Main Difficulties with Volunteer Programs:
1. Volunteers are unable to do the work because of the heat and fitness level required.
2. Volunteers arrive without having properly researched what the program involves and have unreasonable expectations.
3. The work volunteers do is far less than it costs to feed, manage, and teach them.
4. Consistency: volunteers rarely stay the full time but end up hopping from program to program, or realize what they really want is to stay in a hostel on the beach and party.
5. Problems with partying and drug use in town instead of focus on the farm experience.
6. Trouble finding good, consistent leaders/teachers.
So at this point we have closed it and are not offering any type of volunteer, work-trade, or internships. We hope to change this, but to do it will need to do the following:
A. Build a separate space for the volunteers to live, eat and cook.
B. Hire a full-time manager/teacher to keep the volunteers always busy, motivated, and learning new things.
C. Charge more so that we can afford to have them.
The unfortunate reality is that a volunteer program is both an all-inclusive hotel and a school put together. It's very expensive to maintain the housing, kitchen, cleaning, organic food, booking staff, teachers, water, power, internet, etc in one of these programs. We also maintain a ZOO of farm animals… horses, sheep, goats, cats, dogs, chickens, ducks, turkeys, fish, etc. We love our furry and feathered friends but they are expensive. Many potential volunteers have the idea that a volunteer program should be free, because they're working. But in our experience, the reality is that the average volunteer does a fraction of the work of a farm employee, whose salary in Costa Rica costs us around $5/hr. So we need to charge more than most volunteers are willing to pay in order to make the program pay for itself.
My conclusion is that there are two ways forward with volunteer programs:
1. High End – In this case, we charge more, but demand more from the volunteers. It's more like a school but where they do a lot of work too. We need a really good full-time teacher/leader and the volunteers should leave with a PDC (Permaculture Design Certificate).
2. Charity – If Rancho Delicioso could make enough money off the retreats, then we could just subsidize the volunteer program, and know that although it's not sustainable financially, we could at least be happy knowing that more people are able to visit to learn and experience what we have to offer.
The "middle path" that we were trying to do just couldn't work, despite many attempts to restart the program. So for now we're going to focus on improving our organic farming, and building our team and various retreats. Once all that is stable, we can re-visit the idea of volunteers.