Vegetarian Yellow Shakshuka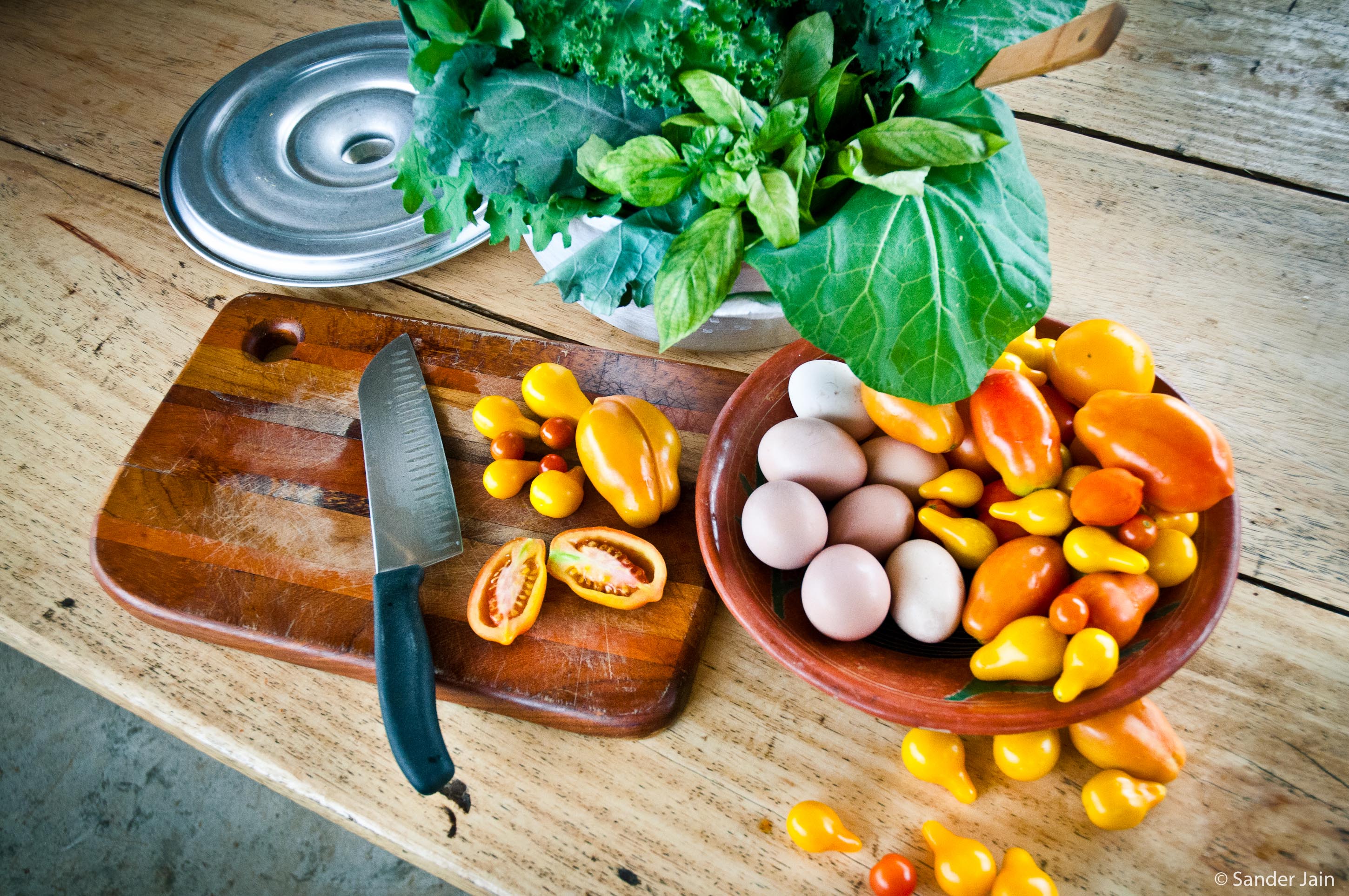 Tomato vines on the cusp of ripe and 87 clucking hens make this dish the perfect farm meal; I made the sauce in the morning then assembled it for dinner, but it's typically served at brunch or lunch.  I recently spent two months farming in Israel and savored this traditional Middle Eastern offering on several occasions.  Restaurants often make custom portions with optional meats, cheeses, and veggies in individual ramekins (probably also for presentation's sake, because it falls apart a bit once plated).  David Lebovitz offers tips for both preparations, but I kept my adaptation family-style.  Agreeing on egg doneness (?) encourages group bonding.
Goat cheese will make a great addition once the farm gets it going.  In the meantime, I substituted roasted zucchini and eggplant for feta cheese, pre-roasted with half the same spices called for in the sauce.  This particular veggie combination turned it into something of a ratatouille, but the spices still bore that distinct shakshuka flavor (even without the caraway seeds).  Turmeric (curcuma) has become my second favorite Costa Rica health discovery (after purslane); packed with antioxidants, anti-inflammatory properties and weight-loss benefits.  Now I understand why someone recommended I take it for healing my stinking broken foot.  Look for this bright orange ginger-related root in most tropical climates. (Note: don't be intimidated by the recipe's long list of ingredients! You'll find most already in your pantry and spice rack.  Use your favorite canned tomatoes (28oz) off-season. Farm fresh indicated in green.)
Ingredients
2 tablespoons olive oil
1 medium onion, peeled and diced
3 cloves garlic, peeled and thinly sliced
1 chile or jalapeño pepper (to taste), stemmed, sliced in half and de-seeded, finely diced
1 ½ teaspoons salt
1 tsp freshly ground black pepper or

dried ground papaya seeds

½ paprika, smoked or sweet

1 tsp caraway seeds, crushed

½ tsp ground cumin

½ tsp turmeric

2 lbs fresh tomatoe

s, cored and diced (I used a mostly yellow cherry varietal)
2 tbsp tomato paste (I used ketchup. Shh!)
2 tsp honey
1 tsp red wine or cider vinegar (I used apple cider)

1 zucchini and 2 baby eggplants, cubed and pre-roasted for about 15 minutes at 400F with 2 tbsp olive oil, ½ tsp paprika, ½ tsp cumin

1 c loosely packed greens,

coarsely chopped; I used mostly kale and some basil, but next time will use more spinach

 

4 ounces (about 1 cup, 115g) feta cheese, cut in generous, bite-sized cubes

4-6 free-range organic eggs;

I used 6, and there was plenty of sauce for each egg)
Recipe
In a wide skillet, heat the olive oil over medium high heat. Add the onions and the garlic and cook for 5 minutes, until soft and wilted. Add the chile pepper, the salt, pepper, and spices. Cook for a minute, stirring constantly, to release their fragrance.
Add tomatoes, paste (or ketchup!), honey, vinegar, and zucchini and eggplant if using, reduce the heat to medium, and cook for 12 to 15 minutes (20 mins if using fresh tomatoes), or until the sauce has thickened somewhat but is still loose enough so that when you shake the pan it sloshes around.  *Note, I made my sauce in the morning and let it sit, covered, all afternoon. Once you get here the bulk of your work is finished: you can wash the sauce off your face and safely assume you're set for clean clothes when you assemble the dish in the evening, or next morning.
If making at once, stir in the chopped greens.
Turn off the heat. With the back of a spoon, make 6 indentations in the sauce. Crack an egg into each indentation.
Turn the heat back on so the sauce is at a gentle simmer, and cook for about 10 minutes, taking some of the tomato sauce and basting the egg whites from time-to-time. Cover, and cook 3 to 5 minutes, until the eggs are cooked to your liking. then drag a spatula gently through the egg whites so it mingles a bit with the tomato sauce, being careful not to disturb the yolks. *I didn't realize the purpose of this until the egg white started cooking over the egg yolk, which is nice to keep exposed for presentation (and so you can see how well it's cooking).
!בתאבון (B'tevon!)